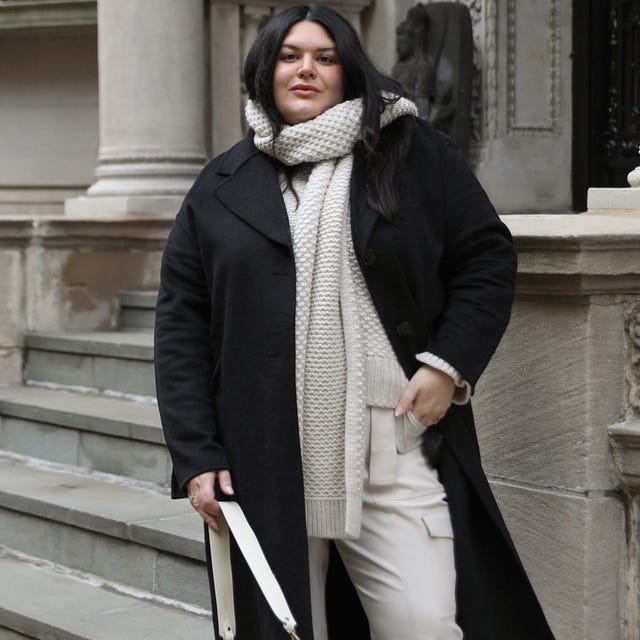 Allie Provost
Need some shopping inspiration? In Lucky 13, fashion tastemakers share the 13 items they're loving so much, they'd hit "Add to Cart" twice. Go on, join them.
---
Nicolette Mason has worn a number of hats during her fashion career: brand strategist, creative consultant, designer. If you've followed Mason through it all, you'll know she advocated for size inclusivity way before the fashion industry started to catch up. And, that tuning in to her Instagram delivers impeccable outfit ideas in tandem with calls to action.
For Mason, style inspiration flows from the people around her—online and IRL. "I look so much to my communities for inspiration: my queer community, my plus-size community, my creative community here in NYC," she tells BAZAAR.com. "I feel really privileged to be around so many creative people who are each change-makers and tastemakers in their own right." A recent favorite on her feeds is TikTok trend forecaster @oldloserinbrooklyn. "I've really loved following TikTok creators and getting back in touch with my love for fashion history and criticism," Mason says. "That's where my love and career in fashion really started—but my professional life has taken a lot of turns since then!"
Her closet can swerve from edgy to ultra-feminine; Mason doesn't subscribe to a single aesthetic, but dresses to her mood. One certainty is every item is considered before purchase, with an emphasis on sustainable, classic pieces over fast fashion. "I am borderline religious about making 'wish lists' and come back to them frequently to see if they're pieces I'm still pining over," she says. Right now, she is embracing her bolder side: "My biggest feeling around personal style right now is craving dressing up and putting together looks. I am dressing more for joy and for myself than anything else."
That's a mindset we all can emulate. Ahead, you'll find the Lucky 13 items speaking to Mason's style reinvigoration most—from a Christian Siriano evening dress to an everyday Brandon Blackwood bag.
Advertisement – Continue Reading Below
1
Young Rose Eau de Parfum
"I love fragrance and how strong of a tie it is to memory. This past fall, my partner and I went to Paris and brought our very small pug along with us. We were browsing at Le Bon Marche in Saint Germain when I first smelled this scent; it reminds me of a grown-up version of Annick Goutal's Petite Cherie. It's a really beautiful perfume, and I bought myself a small 50ml bottle recently."
2
Bias Slip Dress in Black – The Cabaret
"Baacal, founded and designed by Cynthia Vincent, has been one of my favorite plus-size brands to emerge over the last few years. I love the focus on sustainable sourcing and luxury cuts and fabrics, and their Cabaret slip dresses are major workhorses in my wardrobe. They're perfect on their own, with a heel, boot, or sneakers, belted, layered with a chic oversized sweater—there's an endless number of ways to wear and style them!"
3
Aran Raglan Mock Neck
"I'm a Taurus, so soft and cozy knits are a cornerstone of my wardrobe and honestly my life in general. Hand-feel is really important for me when it comes to clothing, and this is a sweater you just want to feel on your skin. I love this soft lilac color—I gravitate most towards neutrals, pinks, and greens, but this pastel is a color I'm really drawn to! It runs oversized, and looks amazing with great denim or with a slip skirt or dress."
4
Lug Boot
"If there's one place in my wardrobe I always splurge, it's on boots. I have boots in my closet that I've cherished and worn for over a decade, and I know this pair will be one of them! I bought a pair of these, in dark fondant brown, on a trip to Paris last fall, so they're also a sentimental reminder of a really sweet trip with my partner. I love the way a strong boot like this can really anchor a dress."
5
Syl Bag
"I love everything Brandon Blackwood creates—I think he's truly one of the accessory designers to watch right now, and his meteoric rise has been a joy to see. His pieces have personality and I find them to be really accessibly-priced for the quality, (plus his Kuei Bag just made a cameo on And Just Like That)."
6
Amy Two-Tone Midi Dress
"You know those pieces that etch themselves into your memory the moment you see them? For me, the Amy dress by Mara Hoffman is one of them. This textured popcorn fabric is one of her go-tos, and carries over from season-to-season. I love how sculptural and evocative this looks and feels."
7
Amorina Heart Drop Earrings
"I love a heart motif, I love jewelry, and I love Laura Lombardi. Her curve hoop earrings have been one of my favorite accessory pieces for years, and these earrings are adorable, without being too cutesy. Her pieces have really nice weight to them and just feel genuinely cool."
8
Normandie Top
"Tamara Malas is an independent designer based in NYC who has really fun, eccentric pieces. I love her unique prints and bold statement pieces, but the sheer Normandie Top holds a special place in my heart. It's great as a layering piece or on its own with jeans and comes in a variety of colors. The long sleeves and high-cut achieves something ambitious: feeling covered up and like you're Not Naked while also wearing something completely sheer."
9
Cut It Out Rib Mock Neck Top
"Another indie designer who I adore, Zelie for She was created by Elann Zelie, and is based out of LA. As an LA native, I love bringing a bit of West Coast sensibility to my NYC wardrobe. I love a cheeky cut-out moment, and this top is a stunner."
10
Cashmere Lounge Pants
"There are a lot of white spaces in the plus-size fashion landscape, and I love that Lauren Chan threw herself in the ring by creating Henning, a luxury plus-size line that focuses on tailoring. While the brand is best known for its suiting. I also love their knits. They're made on-demand in NYC and love that they can be dressed up or down. I wear these at home but also with a heel when I want to feel fancy—but also like I'm wearing something as comfortable as pajamas! "
11
Lip Butter Balm
"I'm a beauty girl through-and-through, so I had to include my all-time favorite lip balm, the Summer Fridays lip butter in Vanilla Beige. This version has a subtle tint which I love. The formula is ultra hydrating and not at all sticky. I would literally buy this in any shade or tint they make it in!"
12
Black and White Bra Top Dress
"After almost two-years of a more at-home, casual life, I'm really craving glamour and a return to dressing up. I've been obsessed with this look from Christian Siriano's pre-fall collection, and even though I don't have an 'occasion' to wear it, it's something that makes me want to create special occasions and celebrations just to have an excuse to wear it! It's both a statement dress and a classic, and I absolutely love that Christian and his team custom-make any size a client desires."
13
Hera Mini Rhinestone Shoulder Bag
"This goes hand-in-hand with my desire for glamour! This Cult Gaia bag is the perfect going-out bag; it's so eye catching and really sparkles when the light hits it. Remember the Kira Kira app? It's like that, but IRL. "
This content is created and maintained by a third party, and imported onto this page to help users provide their email addresses. You may be able to find more information about this and similar content at piano.io
Advertisement – Continue Reading Below