A face full of Fenty – you need to try some of these if you have oily skin.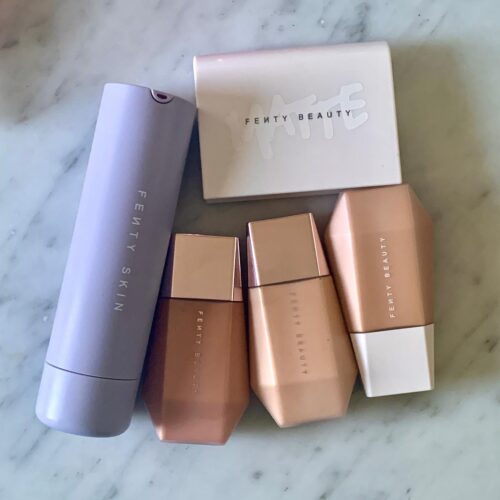 All from PR, but I've been loving each and every thing.
But let's start with my favourite new foundation – the Eaze Drop Blurring Skin Tint. I wouldn't have tried this. I haven't used a tint in a while, but honestly, I don't need a heavy foundation and I think most people don't either. I rarely see anyone wearing a lot, so I think this level of coverage is it. It lasts all day, doesn't break up, get greasy or oily, and no, I'm not using setting spray. I don't know, I put it away in the summer and just never took it out again. I do add powder on top.
Let's go on to the sunscreen – Hydra Vizor. It's as good as everyone said it would be. Moisturizing but light. I put makeup on top, or not, and it's great.
The Eaze Drop Lit highlighters? They're sheer shimmers and good for your skin too, which means that you can wear them straight on skin, even in place of foundation. They have sodium hyaluronate to help hydrate, and are extremely light, like a serum. You could also mix with your foundation but I don't do that, because I like my foundation the way that it is. I did dab some on my shoulders too.
The Fenty Invisimatte is great but it's a pretty basic setting powder, if I'm totally honest. I do like that this is refillable, but I do prefer a powder in a round pan because it's easier for my big fluffy brush to grab product. I didn't like using this when I had just a bit left in it.
Not shown, but my favourite Fenty product is Gloss Bomb. I've bought them many times in many different colours. And the lip balm. Love those.